Reaching your customers everywhere is very crucial, consumers have different habits of purchasing. Many are shopping only on big eCommerce such as Amazon and eBay. On the other hand, some prefer shopping directly from their preferrable brand which they might have a shop on Shopify or their own website.
Moreover, if you are selling different products with different branding, you may have different stores for each one. This can lead to complex orders management, what you really need is one place to connect all of your stores to and manage the fulfilment and shipping there.
Solutions
Luckily, there are many solutions out there that can help you to solve this issue. The number one factor to choose such a solution is asking yourself two questions:
What platforms are you selling on?
Which shipping company are you using?
Make sure that the solution you choose supports the selling platforms and shipping companies you are using. Here is a list of some solutions with the most integrations.
Shipstation
ShipStation is a web-based order and shipping management software that enables retailers to efficiently process, fulfil and ship their e-commerce orders. Their solution combines order processing, inventory management, creation of shipping labels and customer communication on a user-friendly interface that offers direct integrations with over 100 integrations of shipping companies and eCommerce platforms. Shipstation costs from $9 (50 shipments) to $159 (10k shipments) per month.
Shippo
Shippo is one platform for comparing shipping rates, creating labels, generating international customs documents, returning labels, and tracking parcels. As Shipstation, Shippo also has a very wide range of integrations. And if you are based in the US, you will also get discounted USPS, UPS, and DHL Express Rates. Moreover, the pricing of Shippo is straightforward as there are no per label pricing. There is even a free plan, and the paid plan only costs $10 a month.
Starshipit
Starshipit is a web-based software that automates the entire fulfilment process, from label generation and customs documentation, to rates at checkout and post-purchase customer engagement, with many couriers and platform integrations. Starshipit costs $40 per month for the Starter plan with 250 Labels per month, and up to $199 per month for the enterprise plan with 4000 labels per month.
Other solutions that you can check out such as Easyship, Shipworks, Oberlo, and ShipHero.
LabelPass as a tool designed for Australian online merchants.
Now, if you are based in Australia, LabelsPass can offer you the best experience for connecting your Australia Post accounts to either MyPost Business or eParcel. LabelPass was tailored for the workflow of Australia Post operations, with the support of many eCommerce platforms such as Shopify, Etsy and WooCommerce.
LabelPass only costs $19 per month with 300 labels and $39 per month for 1200 labels. LabelPass has no hidden fees and offers one free month for any plan.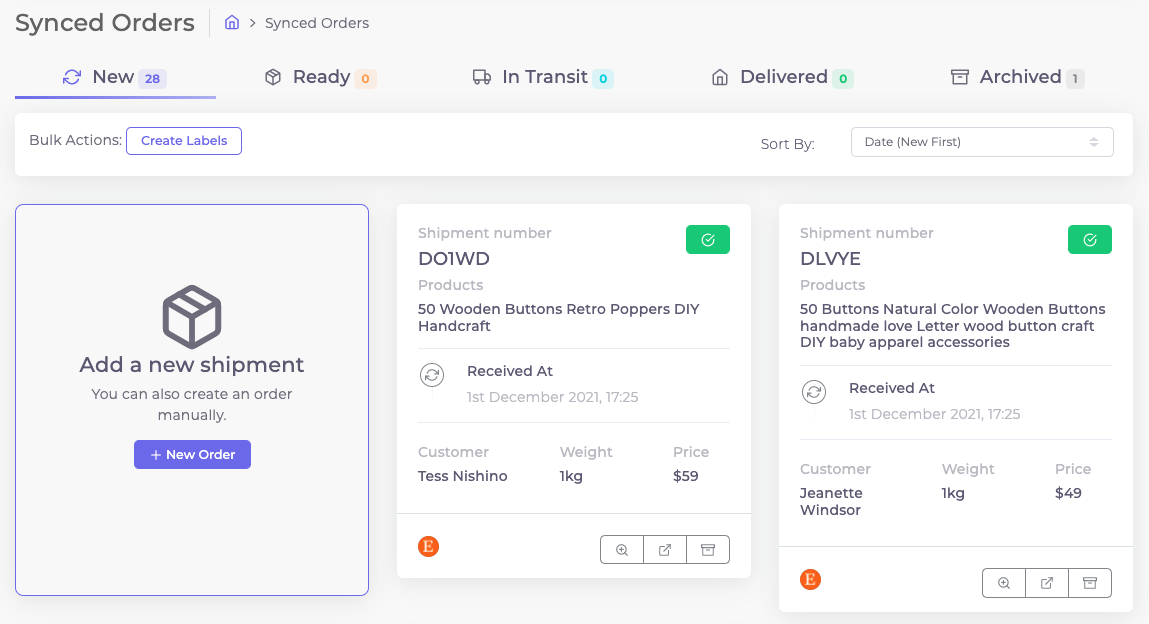 Conclusion
If you sell on multiple channels, it is always better to use fulfilment software, most of the time they are worth the money. Saving time on shipping and label creating can be beneficial for you to spend the extra time on a different aspect of your daily operations.
If you are based in the US or Europe, Shipstation and Shippo can be the choice for you, especially for the discounted US carriers rates that you would get. On the other hand, if you are based in Australia, you can give a LabelPass a try and contact us if you have any questions, or if you need any help.